Yealink T22P
From VoiceMailTel Wiki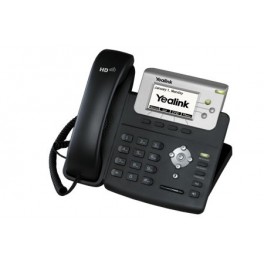 The Yealink SIP-T22P features an intuitive user-interface and enhanced functionality to make user interaction and operation very easy and efficient. The TI TITAN chipset and TI leading VoIP voice engine provide enhanced high-definition audio, outsourced management options, flexible installation and the addition of third-party communications applications. As a cost-effective IP solution, the T22P helps users to streamline their business systems and delivers a powerful, secure and consistent communication experience for both small and large office environments.
Note:
- the device support automatic provision with our service (by completing MAC information on the portal). You will have to do only some minimal settings on the phone.
How to configure your phone
1. To set up your Yealink phone you must first find its IP address: Press The menu button and select Status.

2. Go to any browser equipped computer on your network and enter the address:
http://<IP ADDRESS>/
(where <IP ADDRESS> is replaced by the address that was given to you in STEP above).


3. Login to your phone`s interface using the default login information User name: admin; Password: admin



4. Once you have logged in to your device`s web interface go to: Settings then select 'Auto Provision' on the left sub-menu.

5. On the Auto Provision page search for the Server URL field, enter the following information: http://provision.voicemailtel.net and click on the Autoprovision Now button.



6. Restart your phone.