Compatible devices
From VoiceMailTel Wiki
For a full list of compatible devices and new VoIP phones please visit shop.voicemailtel.com
Here you can find a list of devices that are known to work well with our service.
Note: Minimum firmware version is the version installed on devices that are currently using our service, doesn't mean that firmware with lower version will not work fine.It is highly recommended to upgrade your firmware to the latest version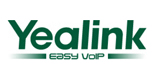 | Model | Min. Firmware/ver | Auto provision | Notes |
| --- | --- | --- | --- |
| SIP-T10 | n/a | No | |
| Model | Min. Firmware/ver | Auto provision | Notes |
| --- | --- | --- | --- |
| 300 | 6.5.20 | Yes | |
| 320 | 6.5.4 | Yes | autoprovision supported for firmware version 7.x |
| 360 | 6.5.17 | No | Discontinued |
| 370 | 7.3.30 | Yes | |
Routers compatibility
Not all NAT firewall/routers can handle voice traffic properly. Symptoms of this include inability to receive calls inbound, dropped calls and no one being able to hear caller when placing an outbound call. Most firewall/router devices have firmware upgrades available to deal with SIP properly, so its always good measure to upgrade to the latest stable firmware.

Note: Many older devices have no updated firmware and may need to be replaced.
AOpen Broadband Routers Work fine.
Cisco PIX 501 - 525 Version 6.3 firmware and greater works with or without SIP handling enabled.
Cisco IOS with SIP CBAC disabled
D-Link DI-604 and friends have some problems with early NAT timeouts, causing temporary failures.
Linksys WRT54G Hardware version 5 requires new firmware immediately after being removed from its box.Version 4 and older are fine.
Linksys WRT54C All versions appear to work fine.
Linksys WRT54GS (non SRX model) All versions appear to work fine.
Linksys SRX gear (all models thus far) cause registration problems with Sipura/PAP2 devices. NAT keep alive fails which results in loss of inbound calling.
Linux IPTables Works fine, sometimes needs higher UDP timeout setting, but not normally
OpenBSD software firewalls (FreeBSD works fine, OpenBSD loses NAT sessions)
SPA-2100/SPA-2102 as a router by itself works fine (with other VoIP behind it)
TP-LINK TL-WR641G and TL-WR642G works fine.
Windows 2000/2003/XP Firewall/NAT- Not a good thing, introduces extreme jitter into the stream, but works